Secure business data with a new career path in cybersecurity
Get trained in one of the fastest growing tech occupations, and learn how to combat the costly threat of data security breaches. Prepare to earn the industry-recognized CompTIA Security+ certification.
Join Calbright's Cybersecurity Program
Learn the principles and best practices of information technology security and risk management on your way to certification and job opportunities in this rapidly expanding field. The program helps develop the core skills and training required to pass the industry-recognized CompTIA Security+ exam.
Cybersecurity Program Prerequisite: 
Entry into this program requires one year of prior Information Technology (IT) experience or CompTIA A+ or Network+ certification. 
Enrollees must have fulfilled one of the following:
Completion of Calbright's Information Technology (IT) Support or Network Technology program
Proof of CompTIA A+, Network+, or equivalent coursework
One year of related job experience in any of the following areas, verified and approved by the review panel:

Helpdesk
Desktop Technician
IT/Software Engineering
DevOps
Site Reliability Engineer
Networking
Telecom Networks
Outside Field Technician
Other qualifications may be considered on a case-by-case basis.
If you haven't fulfilled one of these prerequisites, we encourage you to consider our Information Technology (IT) Support program.
Right now, all Californians over the age of 18 can apply for and enroll in this program with all tuition, course materials, and exam fees covered.
Start Your Journey in a Growing Job Market
Get started with Calbright's Cybersecurity Program
Build your knowledge and skills in the core Cybersecurity areas that help businesses operate safely. The program covers these topics and more:
Note: While Calbright programs are flexibly paced, enrollment agreements are limited in duration.
Students are enrolled in successive 6-month terms for a maximum program length of three years.
Our online community college is currently tuition free for residents of California, over the age of 18, with a high school diploma or GED.
Certificate in Less Than One Year
We measure progress by the skills you've mastered — not by how many hours you've spent in the classroom — so you can move at the speed that's right for you. Students can complete their certificate in less than six months with an average weekly commitment of 6-12 hours (8-10 months for Calbright's IT and Cybersecurity programs).
Academic and Career Support
In addition to tutoring and academic support, our career services team can help you prepare for your job search, from practicing interviews and refining your resume to virtual events with employers and industry professionals.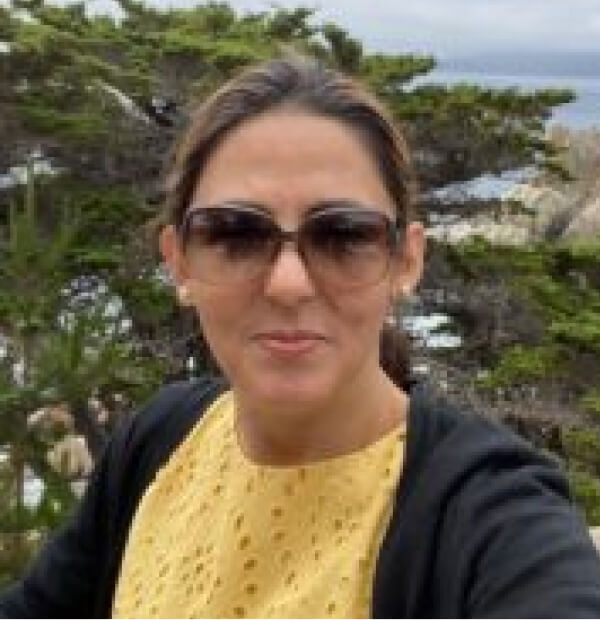 "Calbright's instructors and counselors were always available to provide valuable emotional and academic support. I wasn't doing it alone, and now that I've got my cybersecurity certificate, I'm looking forward to finding a job where I will gain experience and use my knowledge. Calbright's career coach and career services staff are helping with that, too. I feel blessed."
"I've tried everything, and Calbright is up there with the best. The service and support is as good as a full university with degree programs, but it's free and easy to use. Their courses are aimed towards getting you high-value certifications which are highly pertinent in the field of Information Technology."
"Calbright has given me hope.
I survived covid but I struggled through the pandemic financially and had to switch gears from being a commercial public transportation driver to multiple hat wearing assistant at my employer. With Calbright I was able to transition into IT and now I am almost done with the Security + training. I longed for an opportunity like this for years, and now I finally get to take my test and advance my career in IT.
I am beyond grateful for the counselors and academic advisor.
I hope I can pay it forward here at Calbright in the near future. Thank you Calbright!"
Calbright is open to all California residents aged 18 years or older who have a high school diploma or GED equivalent.
All Californians — regardless of immigration status — are welcome to enroll.
Yes! All of our programs are currently free thanks to public funding from the State of California. That includes program tuition, testing costs, and technology resources like laptops and WiFi devices from our lending library.
Because our programs are free, we don't need to offer financial aid.
First, our training programs offer certified proof to employers that you're ready to succeed in a new career on day one of employment.
Second, every student that completes a program also gets a dedicated team of professional experts that will coach you to be the best version of yourself during your job search.
Third, all of our courses are flexibly-paced and 100% online — designed around your own unique life circumstances so school never gets in the way of other priorities.
Plus, Calbright comes at no out-of-pocket cost to you. Even the cost of the exams to receive industry-recognized certifications in your program of choice are covered. 
We also offer resources that include (but are not limited to) technology support through our Chromebook and WiFi hotspot lending library; career counseling; and mental health services. All this and more make Calbright a great choice if you're looking to level up your skillset.
We currently have five online, flexibly-paced training programs: IT Support, Medical Coding*, Cybersecurity, Customer Relationship Management (CRM) Platform Administration, and Equitable Health Impacts: Diversity, Equity, and Inclusion.
These programs are the first of many, with each fitting into wraparound services designed to prepare you for success in the job market.
*Please note that we are currently not accepting new applications into the Medical Coding program.
That depends on you and the pace you want to set, but all of our courses are designed to be completed in the shortest time possible — generally under a year. Your specific estimated time of completion will be determined when you meet with your Academic Success Counselor to develop your Comprehensive Student Education Plan (CSEP).
You can expect complete a Customer Relationship Management (CRM) certificate in less than six months with an average weekly commitment of 6-12 hours.
For our IT and Cybersecurity programs, expect to complete your certificate in eight to ten months, assuming the same weekly commitment of 6-12 hours.
With consistent time and progress, you could complete the Equitable Health Impacts: DEI program in as little as 10 weeks.
Starting an application is easy! If you're ready to begin your journey with us, click here. If you still have questions or would like to get in contact another way, you've got plenty of options.
You can always reach out to success@calbright.org and someone from our team will get back with you via email ASAP.
You can also use the webchat function on our homepage, call us at 1-833-956-0225, or even text HELLO to (510) 330-1817.
Questions? Our Success Team is here for you.