Information Technology Support
Train to earn your CompTIA A+ certificate
What is IT Support?
IT support encompasses anything computer-related including hardware, software and networks. As someone in support you'll be in a position of expertise to help others with technical challenges using a combination of interpersonal skills and the know-how to troubleshoot and solve IT issues.
What do IT support professionals do?
Identify issues with hardware and software
Technical problem solving
Help others by troubleshooting
Install, maintain and update systems
100% Free​
No tuition, no fees - we're free to Californians!​
Online
We're designed for the internet. Access your courses anywhere.​
Flexibly Paced
Take classes on your schedule, stop and start when you want.​
Certificate in 1 Year
Study a few hours each week, earn your Calbright certificate in under a year.​
Join our Introduction to Information Technology Support (A+) Certificate Program
Computerworld says that there are "more positions than candidates" for good IT jobs, and the Bureau of Labor Statistics says IT jobs are growing by 13%.
Calbright's IT Support program teaches you the core skills necessary to succeed in a new technology career, including the training required to pass the CompTIA A+ exam (offered separately by Pearson Vue Testing). CompTIA A+ is an industry-recognized certification employers look for when hiring entry-level IT support or computer service technicians.
Get your certificate at your own pace, as quickly as you need it. This program is currently free to California residents.
Essential 21st Century Skills
This course supports your career development, preparing you to be a well-rounded job candidate. It supplements your technical coursework to prepare you to demonstrate to employers that in addition to your industry-specific knowledge, you also have the interpersonal skills and mindsets they look for. You'll learn best practices for your job search and gain competency in communication, time management, resilience, and other soft skills.
Introduction to Information Technology Support (A+)
This course will help equip you with knowledge and abilities to identify issues across a range of computing hardware and software topics. You'll learn how to troubleshoot and implement solutions, from installation and configuration to networking, operating systems, mobile devices, and security.
Note: While Calbright programs are flexibly paced, enrollment agreements are limited in duration.
Students are enrolled in successive 6-month terms for a maximum program length of three years.
What can you do with an IT Support certificate from Calbright?
IT Support Technician
You'll have the opportunity to use your IT knowledge and interpersonal skills to help computer users with hardware, software and networking issues.
IT Help Desk Representative
A Help Desk Representative works directly with users to provide technical support, answer questions and troubleshoot as needed. This position may be in-person or virtual.
Desktop Support Specialist
Desktop Support Specialists are responsible for upkeep of the hardware (and sometimes software) of a company. This might include regular maintenance, installing programs and updating systems and applications.
We'll help you get there!​
No one should have to be in college alone, and at Calbright you've got a team working with you, supporting your success. Whether it's help with your classes, help with technology, or even someone to help connect you to services you need in your life, we are here to be part of your journey to a better career. Together, we'll transition you into a job in tech.
Jobs estimates via Janco Associates, Inc. study. Median wage and job growth figures via U.S. Bureau of Labor Statistics.
"I want to tell you what a positive experience Calbright has been for me. I enrolled because it was free, but over the past year of my life Calbright has done more for me than I ever thought possible."
"I was never much into social media or any of those kind of platforms. But (Priya) helped me set up my LinkedIn profile and set up my webpage. She was super helpful. Career Services ended up helping me connect with so many other people who could shed insight on what I was doing, on ways to navigate my path and goals and then help me out. So many lights started turning on. I was able to land a really good job interview already."
"I love working with PCs, I've been doing it for years, but I was never doing it professionally. So when I started Calbright, I sometimes suffered from imposter syndrome: could I really start a career in IT? Then one day, I noticed my PC was being really slow, so I started to troubleshoot. I ended up switching out the operating system to make it faster and smoother than ever – and I realized that's exactly what I've been studying in my Calbright classes! I was surprised at how much I'd learned. This is real, and now I'm telling other students: don't feel like an imposter. We can really do this."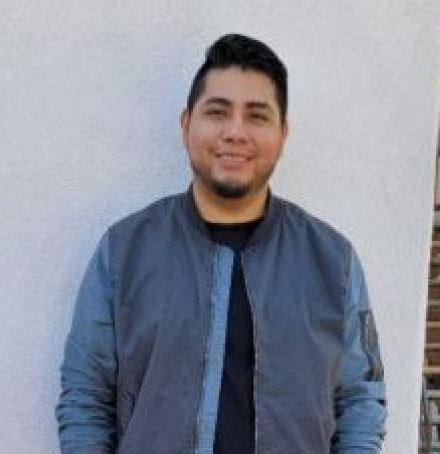 "My experience with Calbright so far has been amazing. I've already gotten a better job. I left my administrative assistant job for a company that works in robotics. I didn't believe that I was qualified, but Calbright's Career Services helped me make my resume appealing to the kind of company I wanted to work for."
Our most important job is your success. Our Student Success team connects you with academic counseling and support, tutoring, career services, accessibility services, and more.
Calbright is open to all California residents aged 18 years or older who have a high school diploma or GED equivalent.
All Californians — regardless of immigration status — are welcome to enroll.
Yes! All of our programs are currently free thanks to public funding from the State of California. That includes program tuition, testing costs, and technology resources like laptops and WiFi devices from our lending library.
Because our programs are free, we don't need to offer financial aid.
First, our training programs prepare you to earn industry-recognized certifications (via exams offered by third-party providers like CompTIA and Salesforce), proof to employers that you're ready to succeed in a new career on day one of employment.
Second, every student that completes a program also gets a dedicated team of professional experts that will coach you to be the best version of yourself during your job search.
Third, all of our courses are flexibly-paced and 100% online — designed around your own unique life circumstances so school never gets in the way of other priorities.
Plus, Calbright comes at no out-of-pocket cost to you. Even the cost of the exams to receive industry-recognized certifications (such as the CompTIA A+, Security+, and Salesforce Certified Administrator exams) in your program of choice are covered. 
We also offer resources that include (but are not limited to) technology support through our Chromebook and WiFi hotspot lending library; career counseling; and mental health services. All this and more make Calbright a great choice if you're looking to level up your skillset.
We currently have five online, flexibly-paced training programs: IT Support, Medical Coding*, Cybersecurity, Customer Relationship Management (CRM) Platform Administration, and Equitable Health Impacts: Diversity, Equity, and Inclusion.
These programs are the first of many, with each fitting into wraparound services designed to prepare you for success in the job market.
*Please note that we are currently not accepting new applications into the Medical Coding program.
That depends on you and the pace you want to set, but all of our courses are designed to be completed in the shortest time possible — generally under a year. Your specific estimated time of completion will be determined when you meet with your Academic Success Counselor to develop your Comprehensive Student Education Plan (CSEP).
You can expect complete a Customer Relationship Management (CRM) certificate in less than six months with an average weekly commitment of 6-12 hours.
For our IT and Cybersecurity programs, expect to complete your certificate in eight to ten months, assuming the same weekly commitment of 6-12 hours.
With consistent time and progress, you could complete the Equitable Health Impacts: DEI program in as little as 10 weeks.
Starting an application is easy! If you're ready to begin your journey with us, click here. If you still have questions or would like to get in contact another way, you've got plenty of options.
You can always reach out to success@calbright.org and someone from our team will get back with you via email ASAP.
You can also use the webchat function on our homepage, call us at 1-833-956-0225, or even text HELLO to (510) 330-1817.
Learn how Calbright can unlock a brighter future
Questions? Our Success Team is here for you.